Post by Diamond Wolf on Oct 11, 2015 22:25:15 GMT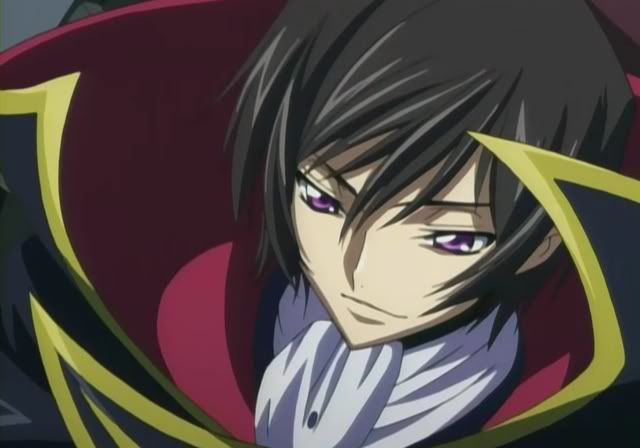 Ashley Zelpher
Name:Ashley Zelpher
Alias:Xanathos, Zero, Ash
Age: 22
Birth Date: Jully, 24 2045
Gender:Male
Race:Human

City:Cloudclaw
Faction:Ebonheart
Occupation:The Right Hand of the Empress
Rank:Commander of a few Special Forces Units
DIRECTORY CODE
[h1]OOCNAME[/h1][ul][li][a href=""]DWolf[/a] Ashley [u]Lelouch[/u], [i]Code Geass[/i]
[/li][/ul]
OOC INFO
Other Characters:
Tag/List any other characters you have on REDEEMER.
MACHINA

NAME:
CLASS:LINK
:
APPEARANCE
Ashley stands roughly 5'8 and roughly weighs in at 135 lb and is a lean and thin individual. His facial features and his dark colored hair allures various women although that's if they see his face. He sometimes wears a full helmet like mask to keep his identity to some degree mysterious and make it unknown. Or he will wear a half cloth mask or a pair of high tech goggles. The most striking feature of Ashley are his violet colored eyes. A extreme rarity for a human as the only way for that color to happen would be through surgery. But they are natural from what Ashley has said himself or to the best of his knowlage. This eye color and his appearance can charm any women and on some very very rare occurances a small number of men get effected. But when Ashley is angry and furious these eyes take on a new look. As his glare can put anyone into a state of fear or panic.
His attire is mostly his custom uniform which looks like its a costume for a noir comic book hero or villain. Which is a dark purple tailed coat with gold colored embroidery, with a white dress shirt underneath, the pants link up with the coat and are the same color and design. With a pair of deceptive durable but fancy boots in a black color. This is all finished off with a mantel like cape which is black color and the inside lining is red, around his neck is a sacrf like ascot around his neck. Although in the sleeves of his coat though he has a card shark instant draw that either holds a pistol or one of his collapsible swords.
While out in public or off hours Ashley wears a lot of casual clothes but his known outfit is a durable brown leather jacket that's use while he is riding around in a motorcycle. a black shirt, jeans and either boots or sneakers. He also has a shoulder harness for a handgun or he does the same thing as he does with his military uniform.
PERSONALITY
Ashley can be called a professional person as he tries and treat others with the up most respect. Treating those with the up most respect and dignity that they deserve but if they show no respect for him though. That person will not love there life any more and there will be certain degrees of this. Even though this makes him look like perhaps a cold individual he is far from it. As he maybe a cunning stratagist for military matters and be a calculating individual. But he is human and will show his anger and it will take a lot to make him to be enraged and wanting someone's head on a silver platter. Ashley will not take it out on his own men and he sometimes channels this into his mind. If this happens against an enemy force he will not be merciful and he will go for the most devastating blow.
When with people he knows or his unit, Ashley is less formal and is a rather charming person. As he tries to remember at least everyone in his unit the Twilight Strays at least by name. As he wants to make sure that those that work under him are remembered and feel special. Deep down Ashley is always a bit depressed as the majority of the friends and family he has had keep vanishing. Always being taken by the grim reaper's scythe and passing on. So the few friends he has, Ashley will go above and beyond to help them even if it means he dies in the prosess of helping them. The man never tries to drink anything to try and forget things that are emotionally hard for him. As he never wants to go down that dark hole and perhaps not even get out of it. The thing that makes Ashley stumble over himself are perhaps romantic relationships. As he is very unsure if he can have a relationship outside of his job working for the empire.
One of the few things he has any hesitation about are the former Helghesian Empire people. Due to there savagery from several reports that his surviving members from the Gauntlet Attack that were there. This has given him a paranoid feeling. Although that feeling had served him well in his survival through out the years.
---
Ambitions:
Everyone has hopes and ideas for their character upon creation. A fuzzy potential list of accomplishments that you hope to have them achieve. Let us know about them here. The sky is the limit.


Goal
Making Sure that Miori is safe and has a full life ahead of her.

Goal
Finding any member of his family that is alive.

Goal
One day having a normal life.

HISTORY
Ashley's history before joining the Twilight Strays is vauge, to the best of his knowlage. He claims that he was from earth and his parents were political figures. What area and rank he is not sure as Ashley's memory has been wiped out from a space pirate attack. So he does have some amnesia but the majority of it is coming back. But none the less all that Ashley could remember was signing up for the Twilight Strays as someone of that organization had recommended it to him. As the ID he had did not exsist at all and had no money on the bank card he had. The Twilight Strays were a organization that was carried over from earth that was originally the French Fourin Legion. For grueling terms of service you would be given a new identity and money to be used for a new life within the Ebonheart Pact as it was known before it became the empire.
Ashley surprised people with his genious level of intelligence as well as his iron will to get through things. Perhaps shining rather brightly and perhaps being one of the good examples of the Twilight Stray unit. But at the time the Ebonheart was not only governed by the President Vernier Ebonheart. But a Counsel of various people within the government to ease things for the President. But it seemed that the Counsel wanted to essentially get rid of the Strays as well as the President and his family including the adopted daughter Miori. But this was not well known to anyone at the time even the Twilight Strays. But they were seeing something off as more and more missions had become more suicide like missions. And some benefits were being cut for family memebers who had loved ones in the unit. Other things were adding up like worse and worse living condtions, lack of funding, sub par equipment. Half the time the machina would break or never ending mantinance.
And other things were getting worse and several people had written complaints or even reaching out to the President himself. Either there messages were received and ignored or they were blocked by something. Even Ashley had tried to get in touch with either of the President's children. As the Twilight Strays were sometimes called to be body guards for the president and his kin. When he got no messages from Miori, in which they had a good relationship as friends. This made him worried and then did some investigation and what he found was shocking. The counsel was blocking everything that was being sent out from the Twilight Strays were blocked. Ashley went deeper and had committed several acts against the nation that gave him a home. He hacked, trespassed, and a few other things and uncovered a plot to not only get rid of the president and his family. As well as making the Twilight Strays there scapegoats.
Ashley showing this to the other members of the Strays at first they thought it was a lie. But as Ashley brought more and more proof to them. They saw the problem, they had a very tough choice. Either they try and do it the right way through legal channels, or take action now. Seeing that the Counsel's goal was to take power for there greed. As they were then going to do galatic domination under a iron fist rule where the truly powerful rule over the weak. Where there was no room to grow or improve one's life. The Twilight Strays raised there flag of revolution and took action. They struck hard and fast before the counsel could react. They took out all of the Counsel, but fearing future insurections. The Twilight Strays took out all threats that could have been a threat to the President, and for Ashley his friend Miori. At the end of this though all of the Strays turned themselves in as they committed several acts of treason. They all were ready to accept death for there actions or other fitting punishments.
What surprised the Twilight Strays and most other people, were that they were pardoned by the President. As they the Strays were in his own words were abused and mistreated and even though they had every right to rebel and kill the counsel, then himself to being blind or ignorant to what was happening. But they did not and stayed loyal to him, only doing this out of duty for the people and himself. The Twilight Strays after that were elevated to a special forces unit that only answered to him. Ashley was then permoted to leader of the Twilight Strays after uncovering the darkness that was going to be unleashed.
When the President was away for the Gauntlet Festival, Ashley was ordered by Vernier to hold down the fort. In the president's words and would give Ashley some vacation time after all of this. But when he heard that the colony was attacked Ashley was horrified. As he felt that he failed in his duties, but Miori had survived somehow. But had changed a bit, it did sadden him but knew it would make her stronger. Even though it was a tragic thing that happened. The most shocking was that the enemy that had attacked the colony was handing over there entire empire over. Ashley had wanted to wipe them out for the actions that they did. But hearing Kline's side of the story it lessened his furry and rage. He did have some empathy for the man as they were similar in some ways. But after that Ashley made a silent vow to himself that he would not fail again and make sure that no harm came to Miori. As turbulent times were ahead of them in the new Empire that Miori had created.
OTHER/SECRET INFORMATION
Ashley has a few special projects that he has kept secret from Miori after the merging of the Vetgeist Empire. In the event that evil elements from the Vetgeist side try to rise up in rebellion. This was not against Kline but knowing that he did partake in these violent acts. As well as doing his own inserection against the Vetgeist Empire, it made a pause of caution for him as well of those from the original Ebonheart side of things.
SMALL NEEDS
WANTED:
Someone to play as Ashley's missing sister that's out there some where.
CODED BY HP