Post by Kenji on Sept 29, 2015 2:31:05 GMT
REDEEMER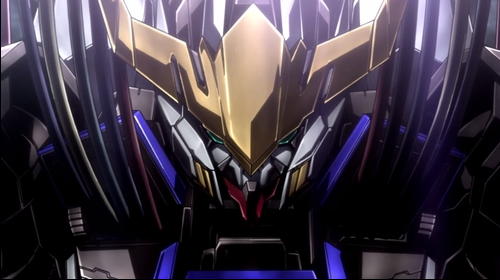 Name:
GF-X1 "Redeemer"
Class:
Secret General Special
Operator(s):
Vicks Snow
Overall Height:
17.1 meters
Accommodations:
Unknown
Technology & Combat Characteristics
The Gauntlet Five Extreme Unit One (GF-X1) Redeemer is the epitome of Machina technology. Created by Rayleonard Usima to protect the Gauntlet Cluster, the Redeemer was so named for it's intent to be used to redeem mankind in all their faults. Redeemer's Overclocked Thruster System allows the mobile suit to achieve near-lightspeed, causing it to almost blink to different locations, allowing for deadly attacks. The Moral Expulsion (MX) System is a unique feature that severs the pilot's ability to process their own moral code, instead injecting the Redeemer's own pre-programmed moral objectives into it's mind, thus allowing the Machina and pilot to carry out their objective with no interference. Another unique feature is it's own Operating System, called the X Engine, allowing the Redeemer to target almost every enemy within a certain radius at once (typically within 1 kilometer).
Special Equipment & Features
X Engine O.S.
Last Heaven Combat System
Moral Expulsion System (MX System)
Rayleonard Overclocked Thruster System

Symphony 360 degree energy shield generator

Armament
x4 "Shimmer" CIWS cannons, mounted in chest
x2 "Prophet" beam cannon, mounted in palms
x1 "Genesis" anti-matter infused katana
x1 "Lockheed" high energy output positron cannon, hand carried in use
x1 "Allusia" dual-mode mace, can be switched between anti-armor and anti-beam


History
The GF-X1 Redeemer is a unique Machina created by Rayleonard Industries as a result of the growing tension between the Union and Empire, and the peoples turning away from everything that made them "good". As a result, the X series was developed, and would include the Gauntlet's top five Machina. These mobile suits would be Rayleonard's best, given to pilots who proved themselves in the Gauntlet - and within a year found their pilots. Because of their power, the X pilots were sworn to remain neutral during the war, for fear the technology would be reverse engineered.
The Redeemer is, to date, the most powerful mobile suit ever created. Piloted by Vicks Snow, this unit hosts a variety of unique features making it the "lead" suit of the Gauntlet V, and rightfully so as Snow's place as Gauntlet I.
Following the destruction of Gauntlet Three, the Redeemer is believed to be lost, and Snow killed in action.