Post by Kenji on Sept 28, 2015 20:19:21 GMT
Here, you will find a complete list of all the Machina created by the Harbinger Union.
LANCEA
Name:
HQAT-U4-MFM "Lancea"
Class:
Military Sub-Special
Operator(s):
Harbinger Union
Overall Height:
17 meters
Accommodations:
Pilot only, standard cockpit in torso
Special Equipment & Features
Aerodynamic Shield
Shield Booster Pods: These can be equipped to the Lancea and give it a dramatic combat boost. As the boosters give the machine far more mobility with the thrusters. A defensive boost with the larger shields. And these shields have a quad vulcan cannons built into the tips of the shield.
High Speed Booster: These are arranged on the back of the Lancea in a X shape to give a mobility boost while in the air and in space.
Air Disrupter
Armament
Giga Cavalier Lance: A extremely power melee weapon that was made for the Lancea. While the Air Disrupter is active this loses its drag and be able to deliver a far swifter blow then expected with a weapon like this. This weapon was made to take several Machina in one swing or take down a ship in one strike.
Hyper Rail Blade: This weapon was made for the Lancea as it fires a high powered shell at hyper velocity to take out an enemy Machina or ship. The blades shift and open up to reveal two electro prongs to fire the shell. While closed the bladed prongs are sharp and can be used as a cutting weapon against foes that close in. 30 Round per Magazine.
x2 PS Saber MK2: These are in a compartment on the upper thigh of the machine and can be drawn easily.
x2 Hyper Vibration Knives: These are found on the boosters of the Lancea.
------------------------------------------------------
TALUM
Name:
HACT-U1 "Talum"
Class:
Special Military
Operator(s):
Harbinger Union
Overall Height:
16.3 meters
Accommodations:
Pilot only, standard cockpit in torso
Special Equipment & Features
Aerodynamic Shield: The Talum's shield. Useful against shelled weapons and some beam weapons.
Air Disrupter: A special piece of equipment on the Talum that allows to redirect air flow while in the sky or under a planetary environment. It uses a small electrical field to do this, while this field is up though. It can scramble lock on signatures for missiles and rockets coming after this unit. Another unintentional side effect of this has caused a effect like Electric reactive armor. This protects the suit from smaller arms fire, but can not protect the suit from high powered weaponry or energy weapon shots. This can be tuned though to add some stealth capabilities but at the cost of some air power
Armament
Ranger Assault Rifle; 30 rounds per clip
El Dorado Assault Shotgun; 20 rounds per drum, this can also fire incendiary rounds, as well as air burst munitions
Predator Uzi machine gun; 40 rounds per clip
Zypher Pistol; 20 Rounds per Clip
x2 Vulcan Cannons: Mounted on the clavicle area of the mobile suit. Meant to shoot down enemy missiles if the Air Disrupter cannot disable the incoming weapon. They can be also used as anti-personnel weapons as well as take out lighter armored vehicles.
x2 Hyper Vibration Sabers: Stored on Wings, these blades extend from the handle and then vibrate at super high speeds to cut through a target.

------------------------------------------------------
CLYPEUS
Name:
UADT-U2 "Clypeus"
Class:
Military
Operator(s):
Harbinger Union
Overall Height:
16.9 meters
Accommodations:
Pilot only, standard cockpit in torso
Special Equipment & Features
EMP Disrupter: A modified version of the Air Disrupter Found on the Talum, this version removes the air disruption in favor of electrical energy. This has a stronger version of the Electro Reactive Armor effect. This also gives the suit some levitation ability to hover across the ground at higher speeds. It can not levitate high into the air due to the machine's weight as well as performance issues and controls. Pilots can focus this EMP field to mess with auto lock-ons of missiles or other weapons of that nature. This could mess up targeting against an enemy but if the enemy is skilled they can skillfully work around this.
Collum Tower Shield: A very thick and sturdy shield that can take a great deal of punishment from various weapons.
Armament
Goliath Rail Bazooka: Five rounds per clip, a heavy offensive weapon for dealing with armored opponents as well launching a munitionat high speeds. The rounds can be switched out for other kinds of rounds. Such as incendiary rounds, freezing, and EMP rounds to disable enemies and push forward.
Wolverine Gatling Cannon: 250 per drum, a massively powerful multi hit weapon that must be held with two hands to operate. Due to there size and are mostly used in defensive positions but it can be used offensively.
Crusher Hammer: A ball and chain weapon that can be used a mid-range weapon by shooting it forward from the handle. Or can be wielded as a close range weapon like a mace.
x2 Gigas Hyper Vibration Axe: The same technology used with the Talum's sabers but far more deadly weapon due to the weighted weapon. This is a fixed weapon that are found in the shoulder armor that have a draw handle to be used.
x2 Mini Gattling Cannons: These are round on the two shoulder pylons on the Clypeus. These can shoot down missles and other opponents. Due to there power they can damage normal sized suits.
x2 Grenade Launcher: These can replace the Mini Gatling Cannons while having shorter range they can deal a more powerful punch against mobile suits. These grenades can have alternate types just like the Goliath munitions.
------------------------------------------------------
DIRIPIET
Name:
HLAT-U3 "Diripiet"
Class:
Military
Operator(s):
Harbinger Union
Overall Height:
16.6 meters
Accommodations:
Pilot only, standard cockpit in torso
Special Equipment & Features
Prism Reflector: The Diripiet's armor has been coated in N-22 Artificial Diamonds. This gives it a shimmering effect, however it's true purpose is refract the light around it giving it optic camouflage and causing it to vanish from enemy sights. This does not make it completely vanish from sensors, however, and it can be exploited. One of the effects of the Reflector allows these units absorb beam projectiles. This can recharge the battery or overclock the railgun and double its power and speed. However, the energy absolution cannot be used in tandem with the stealth mode. It's worth noting that the optic camouflage takes time to come to fill power.
Smoke Dispensers: These are located on the torso of the Diripiet to confuse the enemy to either escape, set up the optic camouflage, or surprise the enemy and get a lucky hit.
Armament
Variable Rifle: This is the Diripiet's main weapon, in its normal state it acts like a Ranger Assault Rifle and fires in single or multifire bursts. But when dealing with long range threats, the railgun barrle is then equiped on to the weapon. This enhances the weapon's range and speed but it renders the weapon to a single shot weapon. If tried to fire in a multifire function it might overheat the barrel and make it explode. Although in close quarters while in sniper mode. There is a HV Byaonet and the user may use the weapon like a spear in a emergency situation. The Variable Rifle may be ejected for better mobility if the ammo spent. The rifle holds 30 rounds per magazine.
x2 Zypher Pistols: these are found on the outside skirts of the Diripiet, they can be used as a mid to close range weapons.
x2 Hyper Vibration Knives: These are stored on the rear area of the side skirts, these are emergency weapons. But vibration function can be turned off and be used as normal anti armor knives for a stealthier kills.
------------------------------------------------------
UNITAS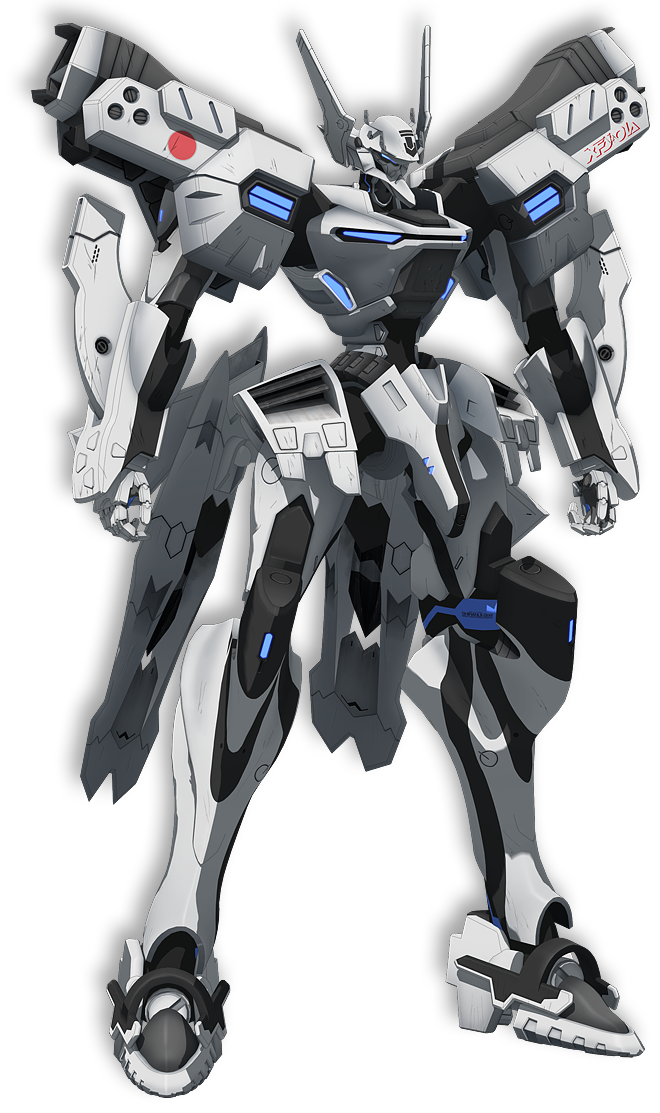 Name:
HMCT-UX01-X2P "Unitas"
Class:
Military Special Sub-General
Operator(s):
Harbinger Union
Overall Height:
17.4 meters
Accommodations:
Pilot only, 360 degree panoramic cockpit in torso
Special Equipment & Features
Soldius Shield: A solid shield that can be carried by the Unitus for added protection from solid weapons. It has been given a N22 Artifical Diamond Coating to give it a bigger defense against HV Weapons as the crystal coating harmonises with the blade nullifying it's hyper vibrating edge. As these weapons use sound to vibrate at high speeds to create the vibrate and cut through materials. It also seems to have better protection against energy weapons as the beam splash off of the shield. But higher output beam weapons may burn off the coating or destroy the shield.
Mega Boosters: On the rear of the suit boosters have been given to Unitus for better mobility in Space and while under a planet's gravity.
Armament
Can use all normal equipment that all other units can use except those on the Diripiet.
Plasma Rifle: One of the few energy weapons that can be used in the Harbringer Union as it gives a Machina a portable weapon of a battle ship into the hands of a soldier. It has a energy cell pack that can recharge the weapon. Each of these rifles has about 30 shots per energy cell. At this moment and time though the Unitus is the only Machina as of the Harbringer that can use this rifle. Out of cost cutting and the plasma technology being a recent thing they solely used it with this machine.
x2 PS-Saber MK2: A plasma energy saber that unlike the Hyper Vibration blades it uses an energy blade that can not break. Plus its cutting power is stronger then a cutting blade. But if the energy runs out in the saber and will lose its energy blade and must be restored on the storage racks on the arms. These can flip over and be used as arm mounted weapons to parry incoming attacks.
x6 micro missile launchers: These are found on the shoulders of the Unitus.
Vulcan Guns: These are found on the clavicle area of the Unitus to shoot down enemy missiles and lightly armored opponents.